Darrell Dickeson serves as interim director of WVC Foundation
Darrell Dickeson serves as interim director of WVC Foundation
Media Contacts:
Darrell Dickeson, interim WVC Foundation executive director, 509.682.6415
Libby Siebens, community relations executive director, 509.682.6436 (Mon.-Thurs.)
December 22, 2016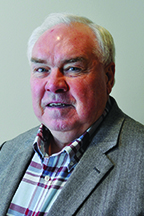 Darrell Dickeson is serving as the interim executive director of the WVC Foundation, replacing Stacey Lockhart, who is resigning at the end of January.
Dickeson has over 35 years of experience in human resource management, organizational development and executive coaching. He has also been the principal in his own independent consulting practice, Northwest Executive Consultants, since 1995, specializing in executive coaching, leadership team development, meeting design/facilitation and process improvement.
Prior to becoming an independent management consultant, Dickeson served as vice president of human resources at Advanced Technology Laboratories in Bothell. He was also director of organization and management development with Boeing Commercial Airplanes and has served on the faculty of the Boeing Leadership Center in St. Louis, Missouri; Edmonds Community College; and Highline Community College. His first career of nine years was in an administrative role with the Washington State Department of Social and Health Services, serving the developmentally disabled.
Dickeson is a WVC alumnus, and he holds a bachelor's degree in business administration and economics, and a master's degree in management.
A Leavenworth native, Dickeson and his wife Karen returned to the Wenatchee Valley in 2012. He joined the WVC Foundation board in 2013 and served on the Stewardship Committee, whose primary purpose is community outreach and support.
"Collaboration, cooperation and inclusion have been my mantra," Dickeson said. "My primary goal in filling this interim position is to utilize my organizational development skills and experience to continue building strong relationships and partnerships between the college and community."
During her tenure, Stacey Lockhart was instrumental in completing the WVC Music and Art Center campaign, establishing the WVC Alumni Association, planning for WVC's year-long 75th anniversary celebration, working with numerous donors to establish long-term scholarship endowments and much more. She was a frequent presenter at the Conference for Community College Advancement and was on the 2016 CASE conference planning team to help share knowledge and best practices with community college advancement professionals nationwide. Under her guidance, the WVC Foundation was named 2014 Non-Profit of the Year by the Wenatchee Valley Chamber of Commerce.
"Thank you for allowing me the opportunity to assist in moving the college forward and support WVC students and programs," Lockhart said. "I have enjoyed serving the college and foundation the past five and a half years and am pleased with the many accomplishments and successes achieved throughout my tenure."