TRIO Student Support Services
What is TRIO SSS?
Since 2015, TRIO Student Support Services at Wenatchee Valley College has provided academic and other support services to over 400 low-income, first-generation or disabled college students to increase students' retention and graduation rates, facilitate their transfer from two-year to four-year colleges, and foster an institutional climate supportive of the success of its participants. WVC's TRIO SSS team provides individualized support to 140 participants every academic year in a number of areas including financial literacy, tutoring, academic advising, transfer assistance, career planning, and more.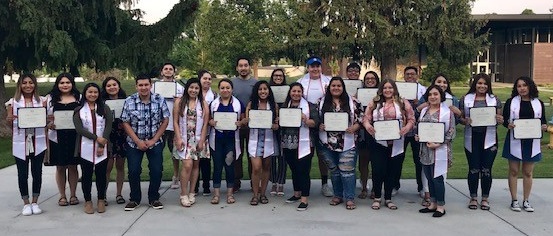 Student Support Services Works!
91% of WVC TRIO SSS students obtain Good Academic Standing (above 2.0 GPA), compared to 75.8% of their non-TRIO SSS peers* (based on 2018-2019 data).
WVC TRIO SSS students are three times as likely to graduate with an associate's degree or certificate, when compared to their non-TRIO SSS peers* (based on 2018-2019 data).
*"Non-TRIO SSS Peers" are WVC students eligible for TRIO SSS services who have not joined TRIO SSS.
Drop-In Advising for TRIO Students on
Tuesdays 10-11:30 or Wednesdays 2-3:30: Join Here
___________________________________________________________________
The eligibility requirements for the TRIO SSS program are determined by federal guidelines.
Learn more about our eligibility criteria in this short video:
To be eligible, students must meet

al

l of the following criteria:
Be a U.S. citizen or legal permanent resident and
Have a high school diploma or GED certificate and
Be accepted for enrollment or currently enrolled at Wenatchee Valley College in a college-level program and
Intend to transfer to a four-year college to pursue a bachelor's degree and
Not already have a degree from a four-year college or university
In addition to the requirements above, our students must meet

one or more

of the following criteria:
Be a first-generation college student (neither parent nor guardian has graduated from a four-year college or university)

OR
Be low-income (according to federal guidelines*) OR
Have a documented disability and are registered with the Student Access Office at WVC.
*Refer to the Federal Low-Income Guidelines Table below. For families with more than eight members, add $6,810 for each additional family member.
Note: "Taxable Income" is different from and often less than "Adjusted Gross Income". If you have any questions or difficulty locating Taxable Income, please reach out to us at trio@wvc.edu
| | | |
| --- | --- | --- |
| | Household Size | Taxable Income |
| | 1 | $19,320 |
| | 2 | $26,130 |
| | 3 | $32,940 |
| | 4 | $39,750 |
| | 5 | $46,560 |
| | 6 | $53,370 |
| | 7 | $60,180 |
| | 8 | $66,990 |
If you are unsure about whether or not you are eligible for TRIO SSS, reach out to us! trio@wvc.edu
TRIO SSS staff host various workshops each quarter to assist our students. The majority of our workshops are closed to students outside of TRIO, but we do occasionally host open events as well. View our upcoming workshops and recordings of open events here.
TRIO SSS specializes in assisting you with your transfer goals and experience. Learn about all of the ways we help you transfer here.
Academic Advising
TRIO SSS staff are available to meet with students to provide individualized academic assistance. Advising includes reviewing coursework requirements, making two-year academic plans, understanding degree audits, assistance with Satisfactory Academic Progress Appeals, and more.
Tutoring
TRIO students qualify for free one-on-one and group tutoring sessions on a schedule that works for you.
Summer Bridge Program
Our Summer Bridge program provides new students and their families with an opportunity to learn more about college. This program emphasizes resources available to students, understanding challenges that college students face, and developing a sense of community and support.
Lending Program
With the assistance of ASWVC, TRIO SSS provides a collection of textbooks, calculators, and laptops that are available for student use. Textbooks and calculators may be borrowed for the entire quarter free of charge to TRIO SSS students. Laptops can be checked out for one week at a time.
Financial Literacy
Our students receive support to develop financial management skills through one-on-one session and workshops. We help students seek out and find scholarship opportunities, balance their budget, and borrow money responsibly. We can also help students with their FAFSA.
Career Planning
TRIO SSS students gain access to internships, job shadows, and leadership opportunities. We are here to help you find the various personality and career placement tools that WVC and the community have to offer. We host career development workshops and are available to meet for one-on-one discussions with students about choosing a career goal.
Cultural Enrichment
We offer a number of social and cultural activities to help students make the most out of their college experience.
TRIO SSS Staff are here to help you plan your transfer to a 4-year program. We are available to go through transfer requirements for your specific program of interest, make the most out of your courses at WVC, consider housing options, find a transfer mentor, and budget responsibly.
Email trio@wvc.edu for more information or to schedule an appointment.
Interested in transferring? Learn about the transfer deadlines, requirements, and TRIO programs at major Washington State colleges on our Transfer Assistance page.
We accept 140 eligible students to join TRIO SSS at WVC every year. To apply, follow the steps below. Do not hesitate to reach out to trio@wvc.edu with any questions during the application process.
Complete our online application here

Or, if you prefer, you can download a PDF of our application.
For a step-by-step walkthrough of our application, check out this video:
Questions? Check out Application FAQs on our Application Page
1. Apply to WVC: Complete the WVC Admission Application and be accepted to WVC.

2. Apply to TRIO SSS: Complete a TRIO SSS Application, short essay response, and supporting documents (listed below). The attached PDF is fillable that can be completed on your computer. If you have difficulty completing this paperwork on your devices, please reach out to us via email. Forms may be mailed to the following address or emailed to trio@wvc.edu:
| | | |
| --- | --- | --- |
| | Wenatchee Campus | |
| | TRIO SSS | |
| | Wenatchee Valley College | |
| | 1300 Fifth Street | |
| | Wenatchee, WA 98801 | |
| | | |
3. Supporting Documents: In order to complete your application, please submit a copy of the following documents to TRIO SSS:
HS transcript if less than 2 quarters completed at WVC.

If you are a permanent resident, attach a photocopy of your Resident ID card.

If you have attended other community colleges, include a copy of your unofficial transcripts.

FAFSA completion confirmation. Apply at

https://fafsa.gov/

. Submit both documents below:

FAFSA Application

or most recent tax return (for income verification)

Financial Award Letter from WVC
4. Interview (about 60 minutes): Once you have submitted all of the application materials and documents, we will review your application. Eligible students will be invited to an interview within approximately 5-7 business days. The interview is designed to learn more about you, your goals, and if TRIO SSS can support your goals.
5. Orientation: After your interview, we will schedule an orientation session (either one-on-one or in a group). This orientation will go through TRIO SSS services and our expectations of our students. We will also ask you to complete paperwork authorizing TRIO to access your academic records.
6. First Appointment: After your orientation, we will schedule your first check-in appointment. The goal of this meeting will be to touch base about your goals, make a two year academic plan, discuss strategies to help you succeed, answer any questions you have about transferring, and to help you start planning for your future.
For more information about TRIO SSS at WVC contact:
TRIO SSS
Wells Hall 1074 (Wenatchee)
509.682.6978
trio@wvc.edu
Complete our online application here

Or you can download a PDF of our application
Student Support Services, a TRIO program, is 100% funded by the U.S. Department of Education. https://www2.ed.gov/programs/triostudsupp/index.html.