TRIO Student Support Services
Offering Virtual and In-Person Services
The TRIO SSS office at WVC is happy to assist you in-person* and virtually.
Use our scheduling calendar (below) to book an in-person, zoom, or phone appointment.
*In person services must comply with the most recent WVC COVID-19 Public Health policies.
Find us on the second floor of Mish ee twie (MET), room 1221
(the building with the "Jack & Edna Maguire Conference Center" sign)
509.682.6978
trio@wvc.edu

Schedule an appointment with us here
What is TRIO SSS?
Since 2015, TRIO Student Support Services at Wenatchee Valley College has provided academic and other support services to over 400 low-income, first-generation or disabled college students to increase students' retention and graduation rates, facilitate their transfer from two-year to four-year colleges, and foster an institutional climate supportive of the success of its participants. WVC's TRIO SSS team provides individualized support to 140 participants every academic year in a number of areas including financial literacy, tutoring, academic advising, transfer assistance, career planning, and more.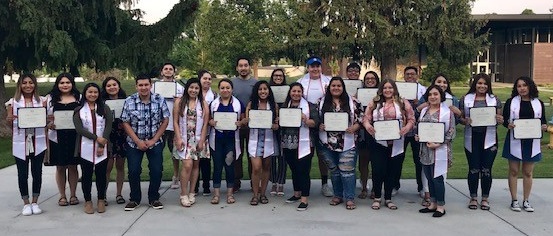 Student Support Services Works!
91% of WVC TRIO SSS students obtain Good Academic Standing (above 2.0 GPA), compared to 75.8% of their non-TRIO SSS peers* (based on 2018-2019 data).
WVC TRIO SSS students are three times as likely to graduate with an associate's degree or certificate, when compared to their non-TRIO SSS peers* (based on 2018-2019 data).
*"Non-TRIO SSS Peers" are WVC students eligible for TRIO SSS services who have not joined TRIO SSS.
Did you miss our campus-wide scholarship workshop on Nov 30th, 2021?
How can we help you today?
For more information about TRIO SSS at WVC contact:
TRIO SSS
Mish ee twie (MET) 1221
509.682.6978
trio@wvc.edu
Complete our online application here

Or you can download a PDF of our application
Student Support Services, a TRIO program, is 100% funded by the U.S. Department of Education. https://www2.ed.gov/programs/triostudsupp/index.html.