Construction Updates
Wells Hall Replacement*
*Updated November 22, 2019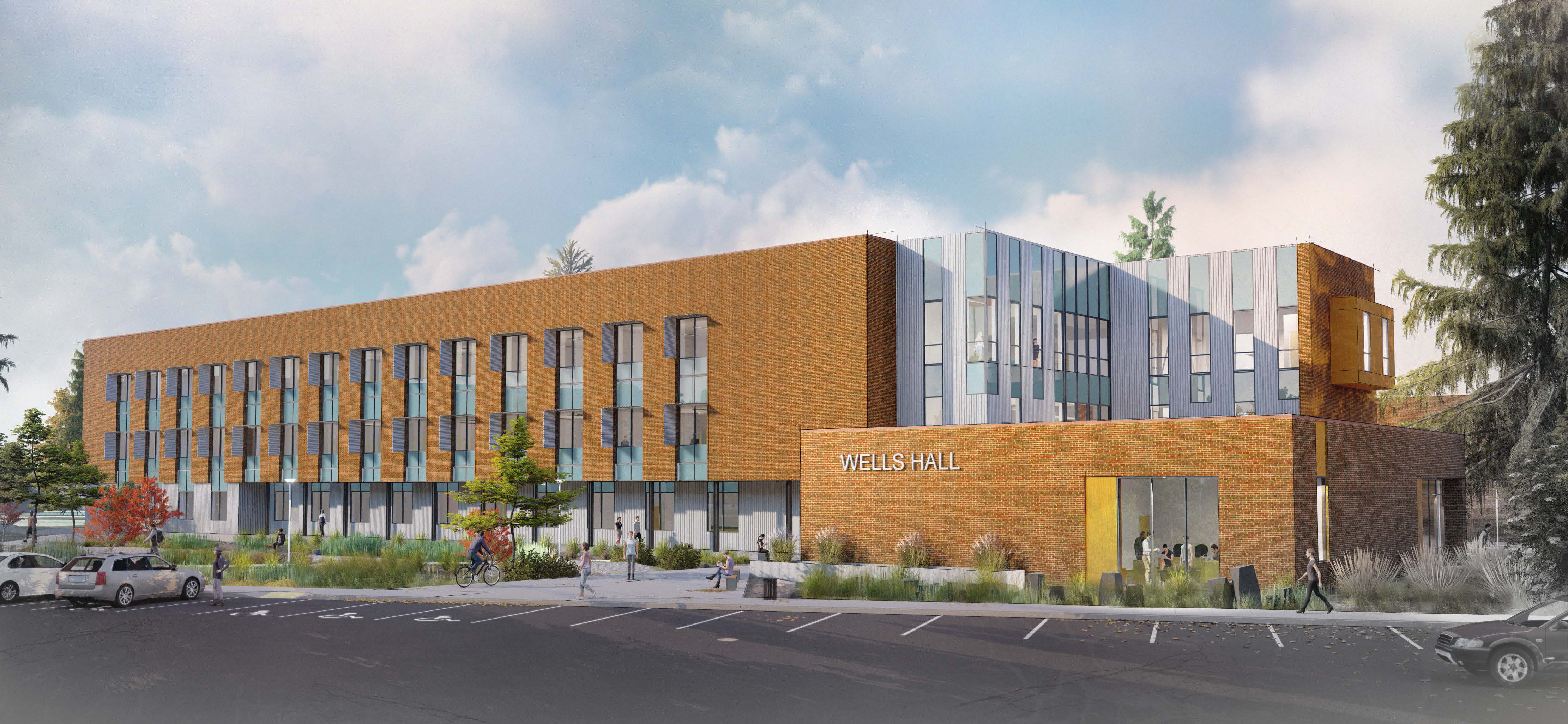 The $37 million Wells Hall Replacement project will replace Wells Hall wings 1-4 with a new, 73,935 square-foot, three-story building. Wing 5, which houses the campus theater and ceramics studio will become a stand-alone building. Built in 1951, the current Wells Hall is the oldest building in the community college system built for college instructional purposes.
Camera 1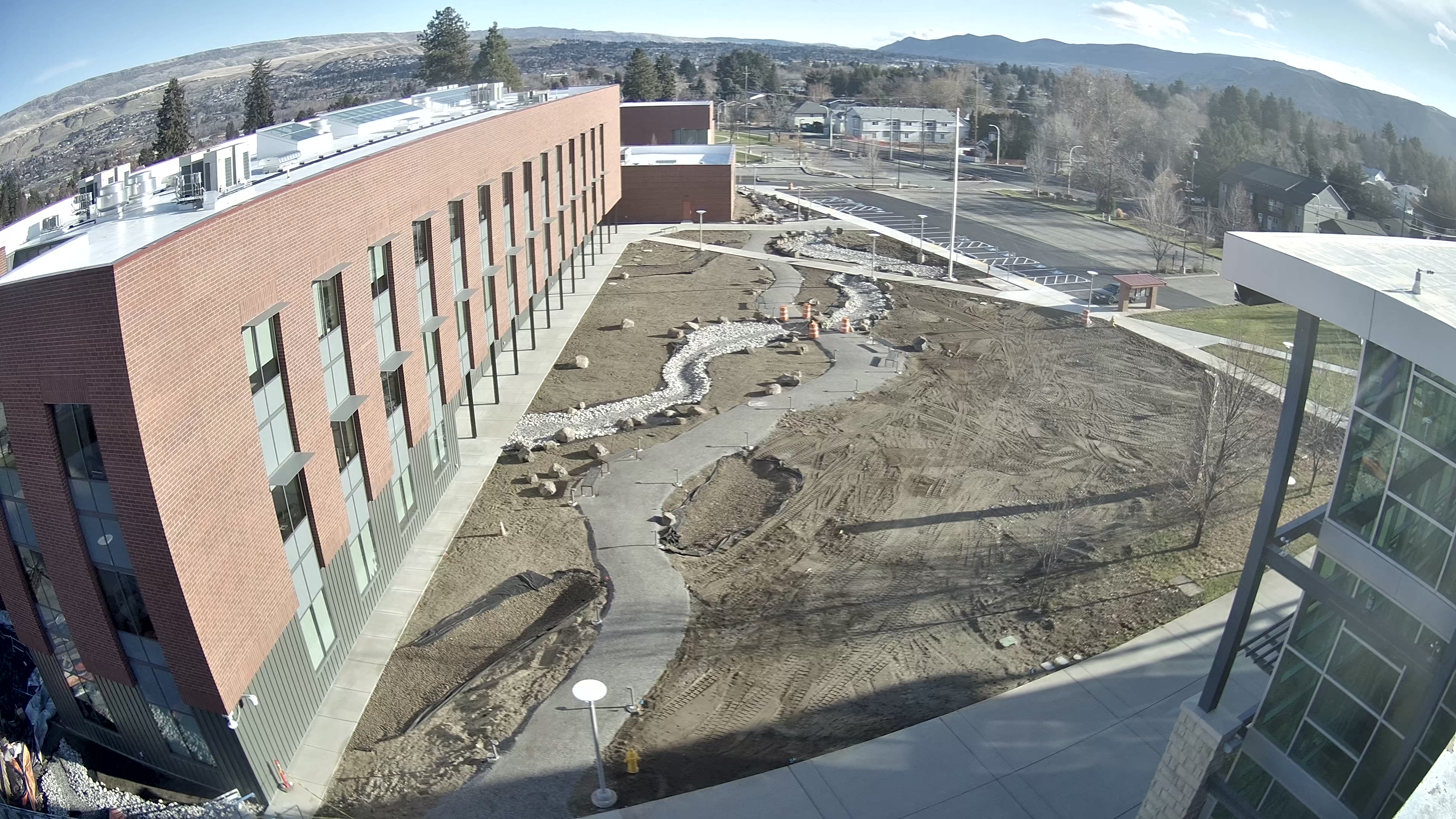 Camera 2
Project updates
Plans and specifications are being developed by Integrus Architecture for the constructions of the new building. Lydig, the construction contractor, is expected to begin demolition in November.
Timeline
Design: August 2018 - July 2019
Office/classroom relocations begin: June 21, 2019
Office/classroom relocations end: September 9, 2019
Groundbreaking ceremony: October 29, 2019
Construction: November 2019- June 2021
Demolition begins: late-November 2019
Project completion: Summer 2021 (open for fall quarter classes)
What will be in the new building
25 classrooms, numerous offices and program spaces
Adult Basic Education/English as a Second Language
Developmental Education
Philosophy/Humanities
World Languages
English
Social Sciences
Communications
Workforce Education
Workforce Grants
Continuing Education
Center for Entrepreneurship
WriteLab
a conference center
Chelan County Emergency Operations Center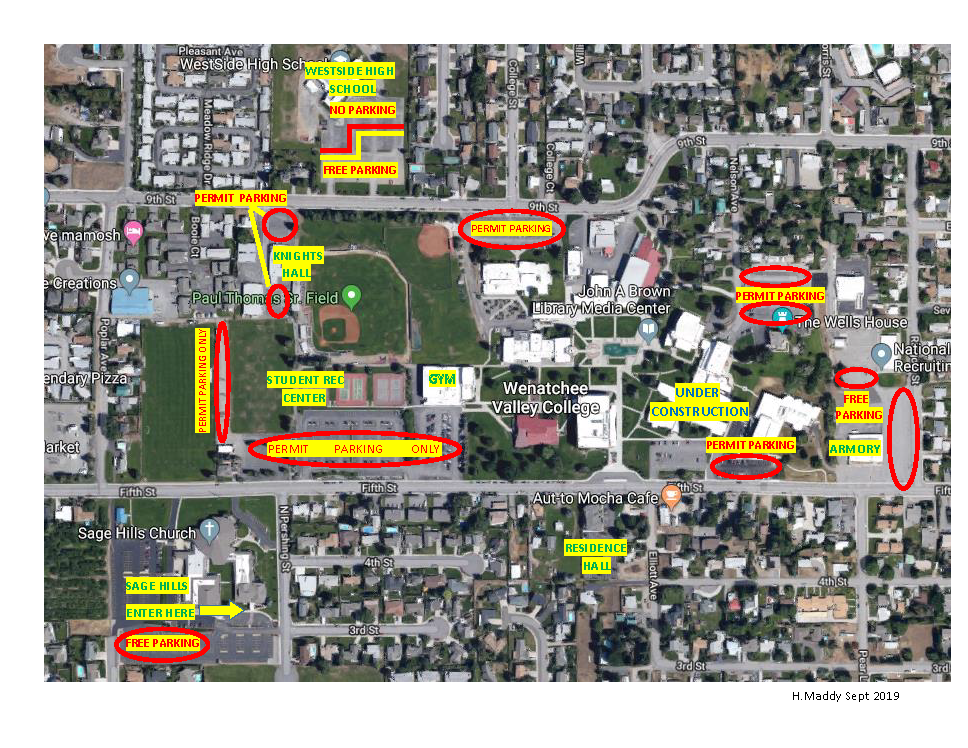 During demolition and construction of Wells Hall wings 1-4, parking in the Wells Hall Visitor Lot (Lot A) and the Music and Art Center Parking Lot (Lot M) may be affected.
Additional parking will be available at Sage Hills Church (free) and Knights Hall A, B & C (permit required).
For more information about paid parking on the WVC campus, visit the Parking webpage.
View and download a map of the Wenatchee campus with the new, temporary locations of the departments that will be affected by the Wells Hall replacement construction.
During construction, several departments will change locations. Relocations begin summer quarter 2019.
Knights Hall A, B & C
Location: on Ninth Street and north of the Paul Thomas Sr. Baseball Stadium
Center for Entrepreneurship
Continuing Education
Transitional Studies (adult basic education, English as a Second Language, High School+)
Grants House
Location: on Fifth Street across from the Wells Hall visitor lot
Workfirst
Workforce Grants
Sage Hills Church
Location: on Fifth Street across from Hollis soccer field
Classrooms during construction
Damon Barta, English
Marcus Bingham, Drama
Geoff Bullis, Spanish
Jeff Bullock, Agriculture
Amy Carlson, English
Tom Doherty, Automotive
Julie Fitch, Spanish
Lisa Foster, Psychology
Leo Garcia, Agriculture
Max Geier, History
Bob Greiner, Automotive
Michelle Hedges, Sociology
Micky Jennings, Machining
Dale Lambert, History
Mike Lesky, Natural Resources
Brant Madson, Computer Science
Stacie Morales, Sociology
Joan Qazi, Geography
Mario Reyes, Spanish
Francisco Sarmiento, Agriculture
Bob Smet, Criminal Justice
Meghan Steele, Communications
Miko Stephens, Japanese
Loretta Stover, Psychology
Helen Tollefson, English
Pat Whitfield, Communications
Karen Alman, Communications
Rene Baca, World Languages
Rich Brinkman, Sociology
Dustin Clark, History
Janna Goodyear, Developmental Education
Lynne Kottmeier, Developmental Education
Jaime Ramirez, Chicano Studies
Amy Snivley-Martinez, Anthropology
Craig Vander Hart, Philosophy
Liesa Adams, Chemistry
Ralph Dawes, Earth Sciences
Shane Hendrickson, Chemistry
Awanthi Hewage, Chemistry
Bobbi Johnson, MESA
Lee Longmore, Chemistry
Jerry Merrill, Chemistry
Bruce Unger, Physics
Geoff Ball, Economics
Anya Belcher, Exercise Science
J'Lene George, Psychology
Erin Long, Exercise Science
Joara Minharo, Political Science
Shelly Pflugrath, Psychology
Roman Sandoval, Exercise Science
Kyle Vierck, Athletic Director
Work First:
Erika Schenkvonstauffenberg
Tina Gavin
Workforce Education Grants:
Nayeli Cabrera
Kristina King
Julie Fitch
Gaby Fernandez, Early Childhood Education
Donna Henderson, English
Linda Johnson, English
Hilary Martinez, Early Childhood Education
Cheryl Short, Study Skills
Transitional Studies:
Tanya Adamson
Nadya Bush
Teri Carnavale
Brent Carter
Annie Douglas
Uriel Escobedo
Bea Hersh-Tudor
Myra Hoane
Alex Martin
Natalie Martinez
Edgar Perez
Joanne Roberts
Val Schneider
Continuing Education:
Erin Davidson
Michele Gedrose
Center for Entrepreneurship:
Bridget Barker
Stacy Luckensmeyer
Scott Bailey, Art
Vicki DeRooy, Art
Natalie Dotzauer, Art
Arius Elvikis, Digital Design
David Hampton, Graphic Design
Hart Johnson, Humanities
Rhia Foster, Music
Sompheng Batch, Business Computer Technology
Dave Burns, Computer Technology
Mike Choman, Business and Accounting
Andrea Elliott, Communications
Erin Fristad, English
Rebecca Hargrove, English
Monique Hirschkorn, American Sign Language
Jack Johnson, English and Humanities
Jennifer Korfiatis, Business and Accounting
Al Neace, Business Computer Technology
Heather Ryan, English
Derek Sheffield, English
Amy Shank, English
Niki Stewart, English
Jaqueline Sykes, English
Theresa Taylor, English
Gerald Tiffany, English
Allied Health and Nursing departments
Kelly Anderson, Transitional Studies
Andrew Behler, English
Dave Bennatt, Biology
Jackie Browning, Math
Larry Cordes, Math and Engineering
Earl Crowe, Biology
Rob Fitch, Biology
Jennifer Hadersberger, Biology
Greg Hampton, Math
Lindsay Henning, Math
Ranis Ibragimov, Math
Kerin Keys, Math
Kari Marino, Math
Elizabeth McGregor, Math
Sai Ramaswamy, Math
Angie Redmon, Math
Angie Russell, Math
David Ryan, Math
Steve Stefanides, Biology
Dan Stephens, Biology
Ben VanDyke, Math
Karina Vega-Villa, MESA
Charles Wikman, Math
Derin Wysham, Math
Ziaowen Zhao, Biology
Contact
Charlie Robb, project manager: crobb@wvc.edu