Residence Hall
Residence Life Office

Contact Info:

Office Location:

Office Hours:

Van Tassell, Rm. 5002

Monday - Friday:
8am to 5pm
(excluding holidays)

Check out the video overview below
to get a better idea of the WVC Residence Hall!
Ready to Apply?
The New Resident Housing Application & Contract should be used for all students seeking student housing for the 2023-2024 school year, who are not currently living there now.
* Pay the Housing Application deposit by calling the cashier department at: 509-682-6500
*Applications for the 2024-2025 school year will be available beginning in spring of 2024.
During the summer quarter the Residence Hall, depending on space-availability, may permit non-WVC students to reside in the hall.
Students from other colleges/universities that are completing internships may request WVC student housing by completing a Non-WVC Student Housing Application which is made available in the spring.
For questions about non-WVC student use of the hall during summer please contact the Residence Life office: 509-682-6706.
* Summer housing is first prioritized for WVC students that are either taking summer classes or remaining in the hall for the next academic year.
** WVC partners with international schools to host summer programs whereby the WVC Residence Hall is reserved to house international students during their stay.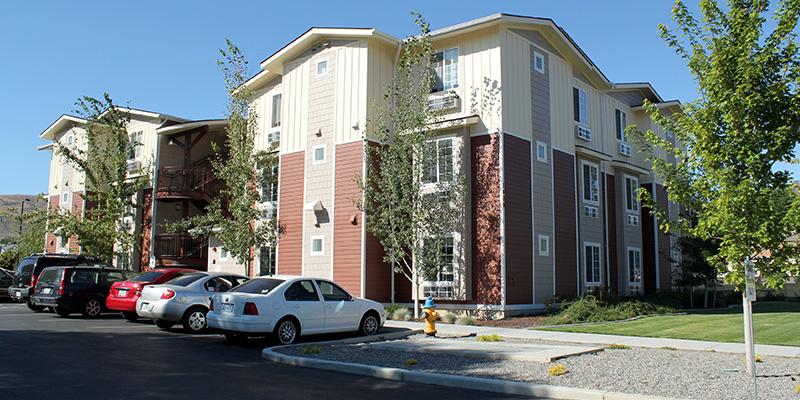 The Wenatchee Valley College Residence Hall sits directly across from the Wenatchee campus, at 1409 5th street, and is within walking distance of grocery stores, shopping areas, and downtown Wenatchee.
Whatever your means of transportation, we can accommodate!
Vehicles:
The Residence Hall is surrounded by paved parking, and a gravel over-flow lot reserved just for residents - just be sure to get a
Residence Hall parking pass
!
Bicycles:
We have 2 indoor wall-mounted bike racks for secure storage of resident bikes, and 2 outdoor bike racks. Regardless of whether you utilize the indoor or the outdoor racks, residents are encouraged to secure their property with a bike lock.
City Bus:
The city bus, Link Transit, has a route that goes up and down 5th street. The bus stop is located directly in front of the Residence Hall and another right across the street in front of the campus...and bonus, riding the bus in Wenatchee is free!
All residents must...
Bring and provide their own face masks (minimum of 3 washable masks, or 1 package of disposable).

Follow all WVC and Residence Life policies and guidelines.

Maintain safety guidelines established by the CDC, and WVC.
Residents are responsible for monitoring their student email and/or Canvas accounts for notifications regarding changing processes and procedures, including those pertaining to COVID-19.
General guidelines and Residence Hall requirements pertaining to COVID-19 are dependent on the perceived risks at any given time and may change frequently.

Quarantine Requirements:

Immediately notify the Residence Life Manager of any potential exposure, and self-quarantine.

Wear a mask any time you are

outside of your room

.

Those in quarantine are not permitted to linger in the Common Room.

Do an at-home COVID test in the days following the potential exposure and provide the results to the Residence Life Manager.
Isolation Requirements (Positive for COVID-19):

Residents that test positive for COVID-19

must notify the Residence Life Manager immediately and isolate in alternative housing

.

Residents that have the ability to isolate outside of the Residence Hall are

strongly encouraged

to do so.

Those that do not have alternative housing for isolation will work with Residence Life for an expedited alternative.

You will be provided directions, contact information, and instructions pertaining to your temporary removal from the hall.
No additional housing costs will be incurred.
All residents that remain in the Residence Hall during a COVID outbreak must follow safety protocols, including but not limited to:
Wear a mask outside of your bedroom
Take and at-home COVID test and provide the results to the Residence Life Manager within the communicated timeframe.
Do not travel between floors of the Residence Hall
Do not bring any guest into the building - the Guest Policy is suspended each time there is an outbreak.
COVID Vaccine Requirement
Complete COVID-19 vaccination is required

Any of the 3 approved vaccines are accepted (Moderna, Pfizer, or Johnson & Johnson).

Both Moderna and Pfizer require 2 doses to be considered complete.

Applicants are required to provide the dates of their COVID-19 vaccination on the housing application.

Verification of complete vaccination is required at check-in by showing the vaccine card.
WVC does not make or keep copies of the vaccine card.

Students with medical or religious exemption may still be permitted to live in the Residence Hall, but should note the following:

All spaces throughout the Residence Hall are

shared, enclosed spaces

that would likely pose a high risk for non-vaccinated residents, especially those with an underlying medical condition that prevents them from vaccination from COVID-19.

Common Questions
about living in the Residence Hall
No commute - the Residence Hall is located directly across the street from the main campus.


Typically cheaper than renting - Residence Hall fees are quarterly (approx. 3 months),

$1650 + $60 technology fee = $1,710, which averages out to $570/month

All utilities are included - water, sewer, garbage/recycling, internet, and cable.
A payment plan is available for housing fees.
Safe environment - In addition to 24-hour security, the Residence Hall has on-call staff to respond to urgent needs 24 hours a day.


Broaden experiences - Living in a community environment brings many opportunities that off-campus living may not offer.

Residents learn to live and interact with individuals from diverse backgrounds and cultures.
Develop better understanding and cooperation through negotiating their shared spaces.
Enjoy activities such as BBQ's, contests, celebrations, etc., that only residents get to take part in.
Have an opportunity to become a student staff and get paid to assist with activities and resident engagement.
The following is a breakdown of the fees associated with living in the Residence Hall:
Application: $450
$50 - application fee
$200 - refundable damage deposit
$200 - non-refundable administrative fee

The application fee and deposits are due at the time of application submission.

Applicants that cancel their housing application and contract

prior to moving in

will be refunded the admin fee and deposit, however the $50 application fee will be retained.

Return of the damage deposit is dependent on any repair of damages and/or extensive cleaning required after a resident has moved out.
Quarterly Housing Fees: $1,650 (plus a $60 technology fee per quarter)

Early Termination:
Unless otherwise indicated and approved, the

Housing Contract is for the entire academic year

(fall, winter, and spring quarters).
Residents that decide to leave mid-year lose the $200 damage deposit, forfeit all quarterly fees that have been paid, and are charged the

$750 Early Termination Fee

.


For extenuating circumstances residents may inquire about the Early Termination Fee Appeal.
The Residence Hall is a single three-story building, laid out in a "pod" style. Each floor contains a Common Room consisting of a kitchen and lounge, which is shared by all residents housed on the floor. Located at each corner of the floors are "pods" (4 pods per floor), which each contain three bedrooms, a shared bathroom, and washer/dryer.
The hall has space for 74 residents, including 2 Resident Advisors (RAs). All floors may be co-ed but pods/rooms gender-specific.
Kitchens include:

Full-size fridge/freezer
Stove/oven
2 microwaves
Pizza oven
Air-Fryer
Due to limited kitchen space residents are not permitted to add to the kitchen appliances or leave their kitchen appliances on counter tops unless in use.
Lounges include:
Casting-enabled television
Multiple full-size couches
Multiple lounge chairs
Coffee table/End tables
Computer station with printer
Foosball table, Multi-ActivityTable (dining/ping-pong/pool)
* No additional furniture is permitted to be brought in by residents.
Located on the 1st floor is 2 vending machines, one with snacks, the other for beverages, which all residents may access.
Bedrooms:
Each room is furnished to house 2 people.
*No additional furniture is permitted to be brought in by residents unless prior approval has been granted.
Bedroom dimensions are approximately 12 ft x 14 ft.
Each bedroom contains 2 of the following (1 per resident):
Bed (Twin XL mattress)
Desks and chair
Wardrobe
Stacking drawers (3 per resident)
Residents are responsible to bring their own sheets, towels, pillows, toiletries and other personal items.
Residents are assigned a roommate or can request a specific roommate on the housing application. Single rooms are not available.
Amenities include:
Phone jacks in each room (land line)

Residents are responsible for bringing their own phone and arranging phone service with a provider

Utilities:

Water, sewer, garbage/recycling
Electricity
Wireless and high-speed Internet connections
Cable
One pod on each floor is ADA accessible. There is elevator service to all floors. Prospective residents needing special accommodations are encouraged to contact Residence Life prior to or upon submission of the application 509.682.6706 .
All students enrolled in 10 or more credits are eligible to live in the Residence Hall.
To reserve a spot students must submit a complete application and pay the $450 application fee & deposit ($50 application fee, $200 damage deposit, and $200 admin/programming fee).
The fall quarter move-in date is the Monday prior to the start of classes. Mid-year move-ins must contact Residence Life to coordinate arrival and check-in.
Residents are permitted to bring some appliances, but for safety there are some restrictions. Please review the list below for what can and cannot be brought into the Residence Hall.
These appliances are permitted in the room:
Coffee Pot / Electric Kettle - MUST have automatic shut off
Mini Fridge (one per rm) - Must be under 7 cubic feet
Microwave (one per rm) - Must be UL approved, and </= 1.0 cubic feet and 800 watts
Surge Protectors
3-Pronged Extension Cords

ONLY

-

NO 2-prong

allowed
Decorative Lighting

String lights

cannot be plugged into each other

("piggy-backing")


The following items are NOT Allowed:
2-prong Extension cords, Multi-prong adapters, and "piggy-backing" power strips
Alcoholic beverages / Alcohol paraphernalia, memorabilia, and/or advertisements
Drugs / Drug related paraphernalia, memorabilia, and/or advertisements
Candles / Incense / Wax Warmers
Combustible substances

i.e: gasoline, propane, butane, etc.

Duct Tape / Tacks / Nails / Screws
Electric Blankets
Fireworks / Powder / Explosives
Halogen / Disco / Lava Lamps
Open-coiled / Hotplate appliances

i.e.: toaster, toaster oven, cooktop, electric skillet/grill, space heater

Pets of any kind

For information on service / emotional support animals contact Student Access Services

Weapons

i.e.: firearms, bows, BB guns, airsoft guns, slingshots, and/or any other type of projectile device.
The WVC Café is located in Van Tassell Center and operated by From Scratch by Us. The café is open from 8am to 1:30pm Monday through Thursday, and 8am to noon on Fridays.
For convenience, you may place on order online.
* Coffee bar and online orders are unavailable after 1pm.
The café is closed weekends, holidays, and non-class days (i.e. - winter and spring breaks, advising day, etc.).
Residents have the option of purchasing a flex-pass meal card from the café. The card works like a gift card and may have funds reloaded.
5% bonus is applied to flex-passes of $250 or more
10% bonus is applied to a flex-pass of $500 or more
The Residence Hall parking lot can accommodate up to 48 vehicles, with an additional unmarked overflow gravel lot.
All parking, including in the gravel lot, requires the purchase of a parking pass.
Residents that wish to park in the lot must purchase a Residence Hall parking pass at the cashier's office. There are two options for parking passes:
Quarterly pass -

$10 each quarter

Annual pass -

$25 (fall - spring)
The Residence Hall parking pass is only valid for the parking lots directly surrounding the Residence Hall.
On-campus parking passes are not valid for the Residence Hall lots, and Residence Hall parking passes are not valid for any on-campus parking lots.
Vehicles parked in any lot, whether at the Residence Hall or on campus without a pass will be ticketed.
On-street parking may be available in some areas.
Each year 2 Resident Advisors (RA) and from 1-4 Community Assistants (CA) are selected to help staff the Residence Hall.
RA's and CA's must be current students, and they must live in the Residence Hall for the entire academic year. Additionally, a minimum of 1 RA position is requested to stay during the summer quarter to assist with summer residents and annual projects.
RAs and CAs help support residents through assisting with routine upkeep and monitoring of the Residence Hall, planning and facilitating activities and events, assisting with conflict mediation, answering general questions, enforcing college policies, and serving as a resource for students. RAs and CAs are there to promote an atmosphere that fosters positive living and learning.
RAs and CAs are selected through an application process and employed by WVC. Student staff must be in good academic, financial, and student standing with the college, and Residence Life. Student staff must be eligible to work in the United States and possess a Social Security Card.
Student staff applications are made available in the spring and open until filled.
For questions about the student staff employment process and timeline or benefits contact the Residence Life office at 509.682.6706.
The Residence Hall requires key-card access which is restricted to residents, Residence Life staff, maintenance personnel, and security only.
Key-cards are programed so that all residents may access every floor, however each pod and bedroom only permit access to those residents assigned to them.
Student staff (RA's & CA's) reside in the building, and emergency/urgent needs contact information is posted throughout the hall.
Campus security officers patrol the college grounds, including the Residence Hall, and are available to assist in emergencies.
Security guards can be reached at 6911 (from a campus phone) or 509.423.3705.
For questions contact the Residence Life Manager: reslife@wvc.edu / 509-682-6706.