Edna Maguire recognized
Edna Maguire recognized
Media Contact:
Stacey Lockhart, WVC Foundation executive director, 509.682.6415
Laura Singletary, student programs director, 509.682.6865
Libby Siebens, community relations executive director, 509.682.6436 (Mon. – Thurs.)
October 2, 2016
Philanthropist Edna Maguire was recognized at the groundbreaking ceremony for the new Wenatchee Valley College Student Recreation Center on Oct. 1. Maguire is giving a $1 million gift to the WVC Foundation for campus capital improvements.
The student recreation center, scheduled for completion in the summer of 2017, will be named the Jack and Edna Maguire Recreation Center in honor of the Maguires' longtime support of WVC.
Presenters included Dr. Jim Richardson, WVC President; Phil Rasmussen, chairperson of the WVC Board of Trustees; Stacey Lockhart, WVC Foundation Executive Director; Michelle Green, WVC Foundation Board President; and Isaiah Smith, Associated Students of WVC Operations Director.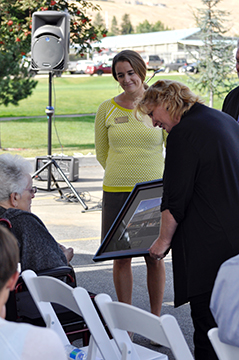 The Maguires' past support includes a scholarship endowment established in 1995 with the WVC Foundation that provides financial assistance to graduates of Chelan, Douglas and Okanogan counties who pursue degrees in education. The scholarship has been awarded more than 84 times since its inception, providing more than $212,000 in scholarship assistance to WVC students.
John Maguire was a stockbroker who lived in Wenatchee since 1947 and was responsible for the opening of the Wenatchee branch of Murphy Favre in 1952. Jack passed away in 1998 at the age of 85. Edna has been a long-time East Wenatchee resident. In 2014, the WVC Foundation honored her as Philanthropist of the Year at a Barbara Wilson Women's Luncheon. Several scholarship recipients who have graduated and became teachers attended the luncheon to celebrate Edna.
"Edna continues Jack's commitment to community and education with this gift," said Stacey Lockhart, WVC Foundation executive director. "Edna and Jack have already changed the lives of many WVC students, and now will forever change the lives of every student who attends WVC."
The $1 million gift will be used to upgrade the educational experience through reimagined teaching space and technology.