Piatigorsky Foundation Concert
Piatigorsky Foundation Concert
Media Contact:
Stacey Lockhart, WVC Foundation executive director, 509.682.6415
Kathleen LeBlanc, Piatigorsky Foundation, 212.971.5309
Rhia Foster, events coordinator, 509.682.6780
October 5, 2016
The Wenatchee Valley College Foundation will present a Piatigorsky Foundation concert on Friday, Oct. 21, at 7 p.m. in The Grove Recital Hall, Music and Art Center. The concert features award-winning mezzo soprano Katherine Calcamuggio Donner with pianist Nicholas Shaneyfelt.
The concert is free and open to the public. Seating is limited to 150. To reserve a seat, call 509.682.6780.
A light social hour will begin at 6 p.m.
In the 2015-2016 season, Calcamuggio debuted with the Louisville Orchestra as the mezzo-soprano soloist in Handel's Messiah, she sang with the University of Michigan's Orchestra as the mezzo-soprano soloist in Verdi's Requiem and she sang several concerts in Chicago. As a winner of the coveted concerto competition at University of Michigan, in the fall of 2013, she made her Hill Auditorium debut singing John Corigliano's Mr. Tambourine Man with the University of Michigan Orchestra. In January of 2014, she returned to Opera on the James to make a role debut of Julia Child in Hoiby's Bon Appetit.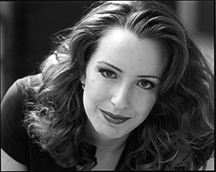 Calcamuggio has received top prizes in the Palm Beach Opera, Bel Canto and Shreveport Singer of the Year competitions, and has awards from the Chicago Women's Musician's Club and the Anna Sosenko Trust. She is a former participant in young artists' programs at Florida Grand Opera, Glimmerglass Opera, Chicago Opera Theater, Opera Theatre of St. Louis, as well as the Aspen and Brevard Music Festivals.
She holds a master of music degree from Northwestern University, a bachelor of music degree from Bowling Green State University and is currently pursuing her doctorate at the University of Michigan.
Nicholas Shaneyfelt is visiting assistant professor of music in collaborative piano at Luther College in Decorah, Iowa. He completed his doctoral studies in the collaborative piano studio of Martin Katz at the University of Michigan. Prior to Michigan, he served as staff accompanist for the University of Massachusetts Amherst's Department of Music and Dance. Shaneyfelt currently accompanies Luther College's Nordic Choir.
Originally from Knightstown, Indiana, Shaneyfelt received bachelor's degrees in music and computer science from the University of Notre Dame, and a master of music degree from UMass with a dual focus in solo and collaborative piano. At UMass, he was the recipient of the 2011 Eugenie May Piano Award. While at Notre Dame, Shaneyfelt was the winner of the university's concerto competition.
Notable recent performances include the premiere of David Amram's Greenwich Village Portraits with saxophonist Jonathan Hulting-Cohen and engagements in Los Angeles, New York City, and the Kennedy Center.
This performance is made possible through the support of Wilfred and Kathy Woods, and the WVC Foundation.