Poet laureate reading at WVC May 18
Poet laureate reading at WVC May 18
May 5, 2017
Media Contacts:
Derek Sheffield, English faculty, 509-682-6737
Libby Siebens, community relations executive director, 509-682-6436 (Mon. – Thurs.)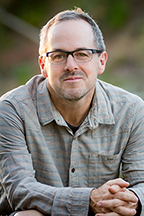 Washington state poet laureate Tod Marshall and Wenatchee Valley College alumni will give a reading on Thursday, May 18, at 7 p.m. in The Grove Recital Hall, Music and Art Center. The event is free and open to the public.
Marshall, along with Zachary Eddy, Cynthia Neely and Graciela Osorio, will read from their work and participate in a discussion. A book signing will take place after the event.
Marshall is the state poet laureate for 2016-18. The poet laureate works to build awareness and appreciation of poetry throughout the state. As part of National Poetry Month in April, Marshall visited poetry events at libraries, bookstores, schools and a fire station, and he has been working on the launch of a state-wide poetry anthology, WA 129.
Marshall is a humanities professor at Gonzaga University, where he also directs the writing concentration and coordinates the visiting writers series. His most recent work, Bugle (2014), won the Washington State Book Award in 2015. His work has been published in several journals, including The American Poetry Review, The Iowa Review, the Georgia Review, The Kenyon Review, Willow Springs and more.
Poet and painter Cynthia Neely is the 2016 winner of the Bright Hill Press chapbook contest for her work, Passing Through Blue Earth, and 2011 winner of the Hazel Lipa Prize for Poetry chapbook contest for Broken Water. Her full-length work, Flight Path, was published in 2014 as a finalist in the Aldrich Press book contest. Her essay writing has appeared in The Writers Chronicle, and her poetry has been published in numerous print and online journals. Neely is a WVC alumna.
Zachary Eddy, also a WVC alumnus, was the recent winner of the 2017 Earth Day and Poetry Month Celebration writing contest at WVC for his poem, "Fish Eyes." A Wenatchee resident, Eddy is an ex-aluminum worker who now studies full time at Central Washington University and works part time as facilities coordinator for Wenatchee Valley Museum and Cultural Center. Eddy also co-edits Mirror Northwest, WVC's literary magazine.
Graciela Osorio is a recent WVC graduate and editor of Mirror Northwest.
The reading is sponsored by the WVC English Transfer Division, and Ginny and Nelson Martin.
# # #
Wenatchee Valley College enriches North Central Washington by serving educational and cultural needs of communities and residents throughout the service area. The college provides high-quality transfer, liberal arts, professional/technical, basic skills and continuing education for students of diverse ethnic and economic backgrounds. Visit our website at www.wvc.edu.