Student Rec Center Pre-Construction Process
Student Rec Center Pre-Construction Process
Media Contacts:
Suzie Benson, vice president of administrative services, 509.682.6515
Chio Flores, vice president of student services and enrollment management, 509.682.6805
Libby Siebens, executive director community relations, 509.682.6436 (Mon. – Thurs.)
July 20, 2016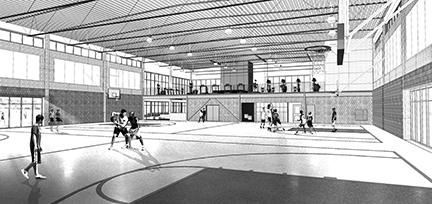 The pre-construction process for the new Wenatchee Valley College Student Recreation Center on the Wenatchee campus has begun. The college has submitted applications to the city for a conditional use permit. A meeting with the city planning commission will take place on July 20 for approval of the building design.
Construction of the building could begin later this summer and is expected to be completed by the summer of 2017.
The Legislature and State Board of Community and Technical Colleges (SBCTC) approved financing of the $6.2 million recreation center. Students on the WVC-Wenatchee campus will pay a $5 per credit fee, with a maximum of $75 per quarter, for the next 20 years to repay the loans for the center. WVC students voted to approve the fee in 2015. No state building or operating funds will be used for construction.
The center will be 17,500 square feet, with a 5,000 sq. ft. mezzanine. It will have two full-size basketball courts, a multipurpose room, and, on the mezzanine level, fitness equipment and weights. There will also be space for volleyball, badminton and indoor tennis.
The center could also be used for events such as career fairs and dances, and other fitness activities such as yoga and dance.
The design process was led by Integrus Architects and included input from WVC student senate representatives; Erin Tofte-Nordvik, director of the office of diversity, equity and inclusion; Laura Singletary, director of student programs; Greg Franz, athletics director; Ariahna Jones, physical education and outdoor recreation faculty member; Rich Peters, director of facilities; Suzie Benson, vice president of administrative services; Kevin Berg, assistant dean of student services and financial aid director; and Dr. Jim Richardson, district president.
"The final design was driven by student preferences—not athletics and not college leaders," said Suzie Benson. "Athletic and instructional priorities were important in the design, of course, since the purpose is fitness and recreation. When it opens, the building will be managed with student leadership setting priorities and overseeing the operations."
The recreation center will be located to the west of Smith Gym on the Wenatchee campus, where two tennis courts are located. The other two courts will remain.