Darrell Dickeson announced as WVC Foundation 2022 WVC Distinguished Alumni
May 31, 2022
Media Contact: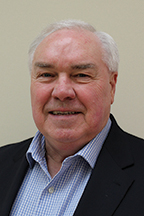 Rachel Evey, foundation executive director, 509-682-6415
Libby Siebens, community relations executive director, 509-682-6436 (Mon.-Thurs.)
The Wenatchee Valley College Foundation Board of Directors selected Darrell Dickeson as the 2022 Distinguished Alumni. Public nominations were held in the spring.

In recognition of the award, Dickeson will throw out the first pitch at Wenatchee Valley College Knight at the AppleSox on June 7 at Paul Thomas Sr. Stadium. Free tickets to the game are available for alumni, staff and students.

"I feel very honored and privileged to receive this award, because I know there are many others who are just as deserving. Wenatchee Valley College gave me the ability to afford the completion of my first two years of my advanced education, and it is truly a pleasure to be able to give back so that others can have the same opportunity." stated Dickeson
Dickeson graduated from Wenatchee Valley College in 1968. He went on to receive a bachelor's degree in business administration and economics from Central Washington University and a master's degree in management from the University of Utah. Dickeson has over 35 years of experience in human resource management, organizational development and executive coaching. He has also been the principal in his own independent consulting practice, Northwest Executive Consultants, since 1995, specializing in executive coaching, leadership team development, meeting design and facilitation, and process improvement.
A Leavenworth native, Dickeson and his wife Karen returned to the Wenatchee Valley in 2012. Since then, he has been a member of several non-profit boards and served as the interim executive director of the Wenatchee Valley College Foundation and the Wenatchee Valley Museum and Cultural Center.
The purpose of the WVC Distinguished Alumni Award is to recognize an alumnus who has distinguished themselves in their chosen professional field; made significant contributions to their community on a local, state, national or international level; and have demonstrated integrity in their personal life and gained the respect of their peers. The award began 37 years ago. Recent recipients include Eastmont educator Jaime Ramirez (2020), NCW Libraries executive director Barbara Walters (2019), local entrepreneur Malachi Salcido (2018) and City of Wenatchee human resources director Kari Page (2017).
###
The WVC Foundation was incorporated in 1971. The foundation's mission is to provide equitable access to education and invest in student success through philanthropy. For information on how to make a gift to the foundation, establish a scholarship or include the WVC Foundation in your estate plans, contact (509) 682-6410. Visit the WVC Foundation website at.
Wenatchee Valley College is committed to a policy of equal opportunity in employment and student enrollment. All programs are free from discrimination and harassment against any person because of race, creed, color, national or ethnic origin, sex, sexual orientation, gender identity or expression, the presence of any sensory, mental, or physical disability, or the use of a service animal by a person with a disability, age, parental status or families with children, marital status, religion, genetic information, honorably discharged veteran or military status or any other prohibited basis per RCW 49.60.030, 040 and other federal and laws and regulations, or participation in the complaint process.
The following persons have been designated to handle inquiries regarding the non-discrimination policies and Title IX compliance for both the Wenatchee and Omak campuses:
To report discrimination or harassment: Title IX Coordinator, Wenatchi Hall 2322M, (509) 682-6445, title9@wvc.edu.
To request disability accommodations: Student Access Coordinator, Wenatchi Hall 2133, (509) 682-6854, TTY/TTD: dial 711, sas@wvc.edu.