College in the High School Students
Students
Enhances ability and skills to do college level work and gain confidence for college success.
Saves money by receiving free/reduced tuition college credit and reducing the amount of time after high school to complete a college degree.
WVC credits are transferable to all college/universities within the state and many other institutions outside of the state.
Students entering the military may earn a higher rank with earned college credit.
Provides access to WVC student support services such as WVCportal, ID cards, use of WVC library and tutoring services.
Research shows CHS students are more likely to finish college and earn more credits by the second year of college.
High School & WVC
Brings WVC and high school administrators and faculty together to develop curriculum, share instructional methods, ideas and experiences that ultimately benefit students.
Coordinated curriculum reduces redundancy of courses between high school and college and increases rigor of classes.
Meets the goals of new achievement initiatives for students to earn college credit before graduation.
High school students who earn credit are more likely to finish college on time which helps meet requirements of completion agenda.
Research shows high school graduation rates increase when students are involved in CTE and/or CHS.
Students wishing to enroll in a CHS course at their high school must first qualify for the program. In accordance with Washington state rules governing College in the High School, students in grades 10-12 are eligible for WVC CHS courses. Freshmen are not eligible. They must meet WVC requirements for placement into college-level coursework (see rubric below).
Test

Score

Placement

Accuplacer:
Writeplacer

5 or higher

ENGL 101 (all college-level coursework except math OR courses with additional prerequisites)

Smarter Balanced Assessment: ELA (English Literacy Assessment)

Level 3 or higher

ENGL 101 (all college-level coursework except math OR courses with additional prerequisites)

Smarter Balanced Assessment: Mathematics

Level 3

MATH 107, 140, 146, 171, 200, PHIL 120

MATH 141 contingent on a B or higher in Math Bridge to College course.

Smarter Balanced Assessment: Mathematics

Level 4

MATH 107, 140, 141, 142, 146, 148, 151, 171, 200, PHIL 120

High School Transcript Placement-Algebra 2

C or higher

MATH 107, 140, 146, 171, 200, PHIL 120

B or higher

MATH 107, 140, 141, 146, 171, 200, PHIL 120

High School Transcript Placement-Precalculus

C or higher

MATH 107, 140, 141, 146, 171, 200, PHIL 120

B or higher

MATH 142, 148, or lower

High School Transcript Placement-Precalculus w/Trigonometry

B or higher

MATH 151 or lower

Calculus

C

AP Calculus AB

A

MATH 152 or lower

AP Calculus BC

A

MATH 153 or lower
Current CHS Students
Scores/transcripts are submitted to the CHS Director at Wenatchee Valley College, who ensures student has qualified to enroll in the CHS course. If the course has additional prerequisites outside of the placement rubric, student must provide documentation of meeting the requirement to the CHS Director. Qualifying students must enroll in the CHS course on their high school campus in order to receive college credit. The CHS Director will then work with qualified students to complete the WVC registration process. Registration is completed on paper and submitted to WVC for processing to ensure that CHS students are enrolled in the specified sections for their high school. Students must then pay tuition by the 16
th
day of class, in order to avoid being withdrawn from the course.
All CHS courses are $35 per credit hour. This is deeply discounted from the usual $102 per credit hour. All current course offerings are 5 credits. Tuition for one course is $175, and is assessed a $5 administrative fee. Total cost for one course is $180. Tuition is due no later than the 16th day of class.
Methods of Payment:
ONLINE: CLICK HERE
OVER THE PHONE: Call the Cashier's Office at 509.682.6500. Have your Student Identification Number and credit or debit card ready.
IN PERSON: You can also make your payment in person, especially if you prefer to pay with cash or check. The Cashier's office is located on the first floor of Wenatchi Hall, next to Registration.
*Some school districts have state subisidies that can be applied to the cost of CHS courses. Be sure to check with your high school regarding whether or not they have been awarded this funding before you pay your tuition.
You will be asked to enter a username and password.
Your username is your WVC student email address: first initial of first name, full last name, last four digits of SID@student.wvc.edu. For example: jsmith1234@student.wvc.edu
Your password is your six digit birthdate (MMDDYY). For example, if born on January 1st, 1999, it would be 010199.
You will be taken to this screen below: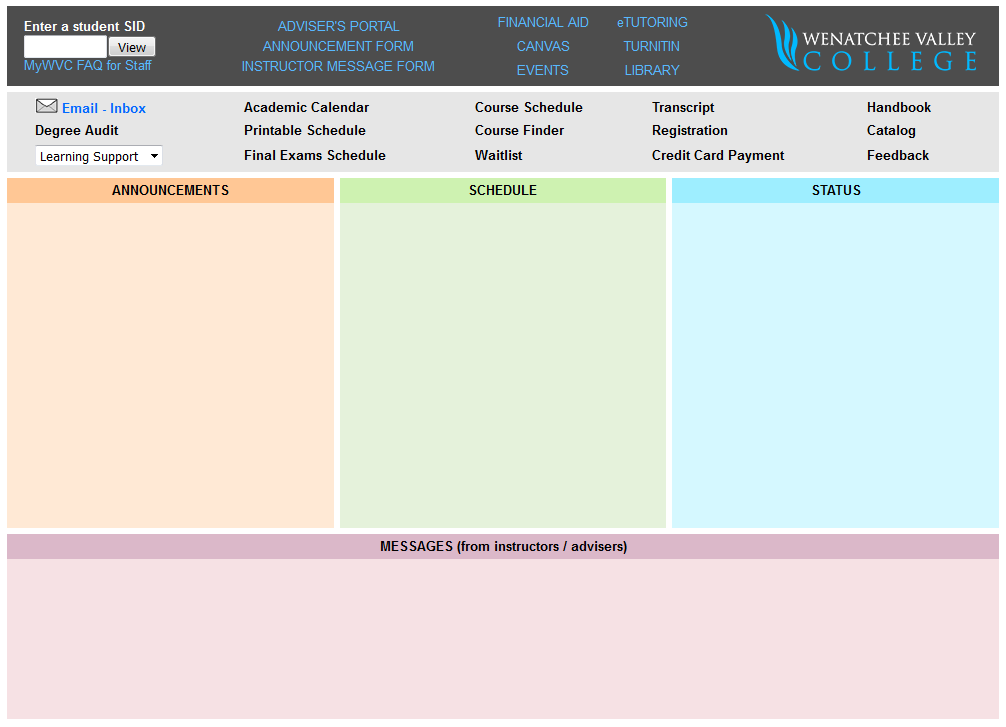 From this page you can access your student email, your schedule, pay tuition/fees, print unofficial transcripts, access the library and its resources, and much more!
CHS students have to right to withdraw from their courses if they choose. Withdrawal can take place up until the 10th week of the high school term in which the CHS course is being offered. Students must first notify their CHS instructor that they wish to withdraw. Next they need to immediately notify the CHS Director. Finally, the student will need to complete the form found at this
link
and return it to the CHS Director as soon as possible. Any withdrawal forms received after the published last date to withdraw on the CHS Student Calendar, will not be processed and the student will remain in the course.
Tuition refunds will be allocated as follows:
Withdrawal on or before the fifth business day following the date of registration for CHS course=100% refund
Withdrawal after the fifth day and through the 20th business day following date of registration=50% refund
Welcome CHS students! Below is the link to your course evaluation survey for the courses you are enrolled in for Fall of 2018. Please complete the survey for every course you will be earning college credit for through WVC. Feel free to reach out to us with any questions or concerns at 509.682.6848. Thank you!