Encanto Concierto for WVC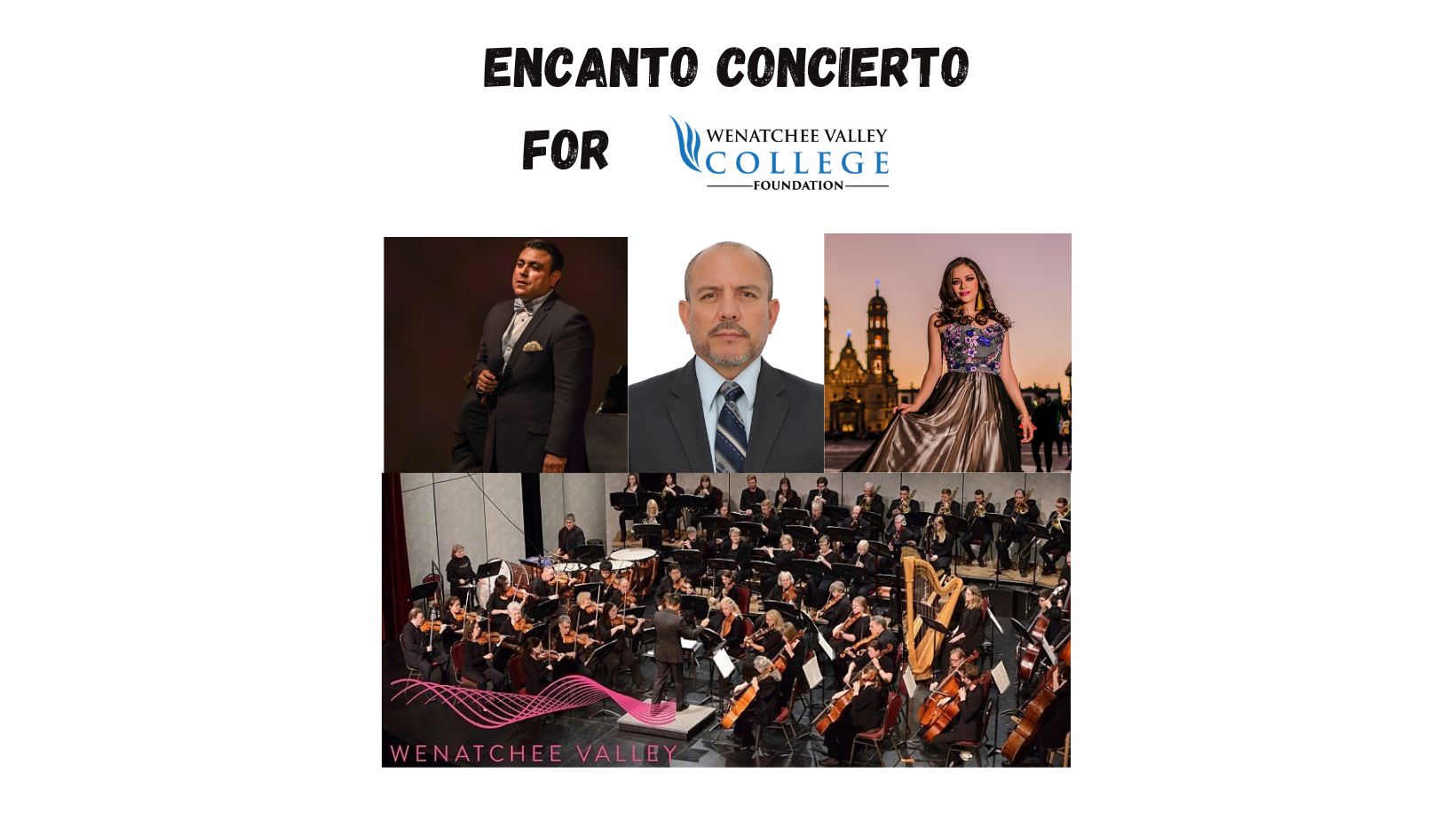 Saturday, September 23, 2023
7:30 PM
(Doors open at 7:00 PM)
Numerica Performing Arts Center
Enjoy an evening of unique music with proceeds benefitting Wenatchee Valley College (WVC) students.
Step into a world where the harmonies of Mariachi Boleros intertwine with the captivating melodies of Opera Arias, creating an enchanting musical experience like no other. Welcome to Encanto Concierto, a mesmerizing concert that will transport you through the remarkable journey of Jose Iniguez, an artist whose roots lie in a humble farm working family in Mattawa and have blossomed into the prestigious realms of the Seattle Opera and Bolero Tenor.

Prepare to be spellbound as Soprano Mareanne Natali Silva Mendoza, hailing from the vibrant city of Colima, Mexico, joins forces with the illustrious Tenor Jose Iniguez, bringing their exceptional vocal talents to the stage. Together, they will be accompanied by the resplendent voices of the Mid-Columbia Master Singers Choir, blending their collective artistry into an awe-inspiring symphony of sound. And guiding this musical voyage with grace and expertise will be the gifted conductor Nikolas Caoile (Central Washington University) and the Wenatchee symphony supported by the esteemed guest conductor Miguel Angel Alatorre from the renowned state Colima Symphony.

Adding to the grandeur of this extraordinary event, we are honored to have Washington State Supreme Court Chief Justice Steve Gonzalez and Wenatchee School Board President Maria Iniguez as our esteemed emcees. Their presence will ensure an evening of elegance and cultural celebration.
Encanto Concierto is not just a concert; it is an invitation to immerse yourself in a tapestry of diverse musical traditions, harmonizing Mariachi Boleros and Opera Arias into a breathtaking mosaic of emotions. Join us for a night of artistic brilliance, where the power of music transcends boundaries and captivates your senses. Secure your ticket today and be part of this unforgettable experience that promises to leave you with lasting memories.

Thank you to our Sponsors
Symphony
Jay Grubb
Washington Farm Labor Association (WAFLA)
The Confederated Tribes of the Colville Reservation
Agave Restaurant
Song
Maria & Ricardo Iniguez
Iniguez Family
Gebber's Farm
Dan & Lucinda Fazio
Alexia Inigues
CAFE
Wenatchee Rotary Foundation
Guadalupe Cavazos
Drink
Au to Mocha
Gebber's Farm
Encanto Arts
Jeff Edmunson
Golden Apple Tax & Services