Spotlight: Elizabeth Ferrell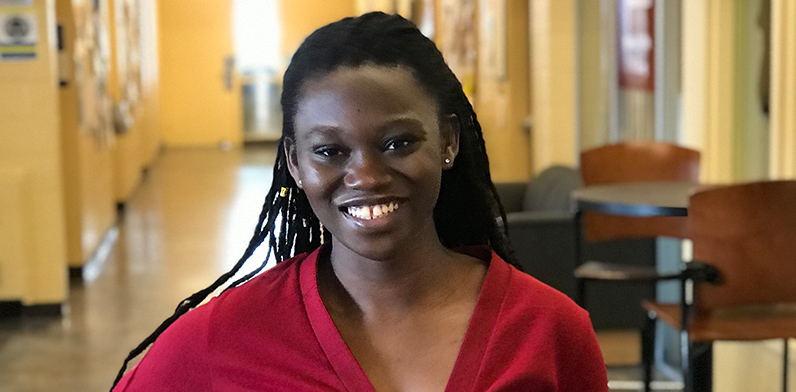 "WVC has impacted me in so many ways, but it's especially challenged me to be a critical thinker. The professors really push you to think beyond yourself or the next test. Here, learning those lessons and learning how to think about the world and how I contribute to the world – that is what has impacted me the most about being at WVC." - Elizabeth Ferrell, ASWVC Director of Health and Wellness
Please introduce yourself.
"My name is Elizabeth Ferrell and I am originally from Ghana, Africa. I was adopted ten years ago with my twin sister and my little brother. It's been quite a journey getting here and at times it has been very difficult. I didn't understand English so I had to learn the language and kind of adapt to the social norms. I attend Wenatchee High School and am in my second year of Running Start. It's been really hard to catch up to the rest of my peers and the first year was definitely a struggle and a challenge. But I've passed every single class and am getting ready to graduate with my high school diploma and my AA degree. That is definitely an accomplishment for me, it's very huge because I didn't know if I could do it! It has been hard work, but the faculty have been amazing and I've learned so much. It just makes me excited for the future!"
What motivates you to be a student leader?
"I've always been passionate about helping those around me. Going back to being adopted – a lot of people have helped me get to where I am. The world is a beautiful place, but I recognize that opportunity is not the same for everyone. People do not have the same abilities to go to school and do the things they love. I just want to bring happiness to those around me. The world isn't a perfect place and everyone faces a lot of struggles and challenges. I'm just passionate about wanting to bring a little light to those around me."
How has Wenatchee Valley College impacted you?
"WVC has impacted me in so many ways, but it's especially challenged me to be a critical thinker. High school was pretty good for me but I felt like it was always about just passing that test and then moving on to the next test. Here at WVC, the professors really push you to think beyond yourself or the next test. Here, learning those lessons and learning how to think about the world and how I contribute to the world – that is what has impacted me the most about being at WVC."
What are your plans for the future?
"I'm pretty excited about the future. My sister and I have been doing track since we were in first grade and we've recently verbally committed to WWU and they are giving us partial scholarships to run track there. So I will also be getting my major in kinesiology and my minor in business. The goal is to open our own track and field facility someday. Track has been a huge part of my personal development. It was very hard for me when I first came here, not understanding English and being one of the few black people here in Wenatchee. But, track for me gave me a space where I could learn about myself and I could learn that I am beautiful in my body stature and I just want to use that passion to reach other kids, whether they are under privileged or haven't found that confidence in themselves yet. Connecting my passion to connect with other people is my goal."
What advice do you have for students who are not involved in a campus club?
"For students who are not involved in a club on campus - don't be afraid to take a risk and try something new. You not only learn more about yourself but you connect with so many amazing people and can build lifelong friendships. It is a good opportunity to reach out. You never know what you are going to learn but you are going to learn something. I've really enjoyed my time here at WVC. It has been a really great experience for me and I hope that other people use it as a resource for getting prepared for their future."