About Our Spaces
The following is a list of major meeting spaces found on the Wenatchee campus at Wenatchee Valley College. Please take a look at our spaces and amenities to help find the perfect meeting place for your event.
Wenatchi Hall is a beautiful three-story building that houses multiple classrooms, lecture halls, conference spaces and nursing facilities. Its open spaces provide study and gathering areas for students, and its abundant natural light creates a welcoming, warm atmosphere for visitors and students alike.
Atrium
The atrium of Wenatchi Hall is a bright, open space lit by three floors of floor to ceiling windows. This space is ideal for creative gatherings, expositions, informational tabling and more.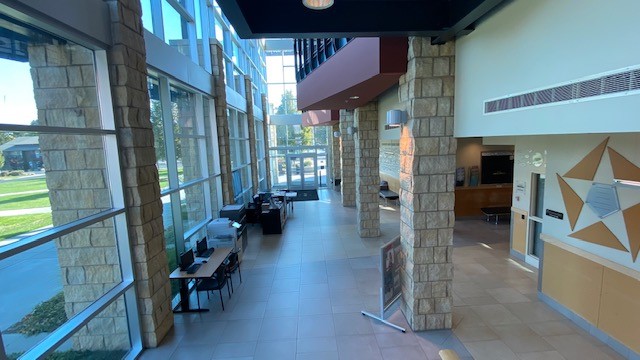 The Music and Arts Center is a multiple award-winning building located near historic Wells House on the Wenatchee campus. It is home to The Grove Recital Hall and the art department's own MAC Gallery, boasting student and faculty works along with those of invited guest artists. Multiple spaces are available to rent within this beautiful building.
MAC Lobby
The MAC lobby is the entryway to both The Grove Recital Hall and The MAC Gallery. This spacious, creative space is available for receptions, ticketing and tabling. The lobby can host up to 180 guests.
The Grove Recital Hall
The Grove Recital Hall is the crown jewel of the MAC. The space boasts pristine acoustics, a fully equipped soundboard with recording capabilities, stage lighting for performances and a Steinway. The Grove is best utilized as a chamber to lightly electrified music venue and has theater-style seating for 160. Lecture set up is available. No food or drink are allowed in The Grove Recital Hall.
Sorom Recording Studio
The Sorom Recording Studio is a state-of-the-art recording studio with a full range of acoustics, recording equipment, multiple instruments, and an isolation booth. The amenities encompassed in the studio are variable and can be changed to suit recording/artist needs. Please contact the events coordinator for more information.
Rehearsal Spaces
The Sparks Rehearsal Space houses the WVC choirs and ensembles. The vast open space has beautiful natural lighting, vaulted ceilings, three-tier platforms for large group rehearsal/seating, a grand piano, adjustable acoustics, and moveable surfaces for teaching and presenting. The room accommodates up to 80 guests.
Multiple practice rooms are available within the MAC to accommodate warm-ups, sectionals, and small group study.
Jim & Kim Richardson Patio
The Jim and Kim Richardson Patio and lawns surrounding it are a wonderful space to host an outdoor gathering. It is on the north side of the building, directly across from the historic Wells House. The patio is home to rotating student art displays and provides a shaded area for BBQs, picnics and any number of outdoor gatherings.
Mish ee twie has 25 classrooms, offices, program spaces, the Jack & Edna Maguire Conference Center and the Chelan County Emergency Operations Center.
Jack & Edna Maguire Conference Center
The Conference Center's open floor plan is capable of hosting multiple set-ups. The full projection screen and sound system make it ideal for lecturing or large meetings. The Conference Center can accommodate up to 128 guests.
The Wells Hall Theater is an ideal space for lectures, banquets, forums, meetings and gatherings of all varieties. The room's open floor plan is capable of hosting multiple set-ups. The stage, full projection screen and sound system make it ideal for lecturing or large meetings. The theater can accommodate up to 140 guests.
Van Tassell Center is largely dedicated to our student body. It is home to our student body, student lounge, the bookstore and the cafeteria. The building is a wonderful place to experience student life at WVC and looks out over the fountain and common outdoor areas of our campus.
The cafeteria is a versatile space that is capable of accommodating up to 140 guests. The room is perfect for banquets, tabling, workshops, large meetings, conferences and forums. NOTE: If your event will include food and/or refreshments, the WVC Food Service provider must be notified for your catering needs. They can be reached at 509.682.6518 or by email at wvcfoodservices@wvc.edu.
The student lounge in Van Tassell is a full student lounge. It is available to rent in limited capacity and requires approval from the Campus Life Department.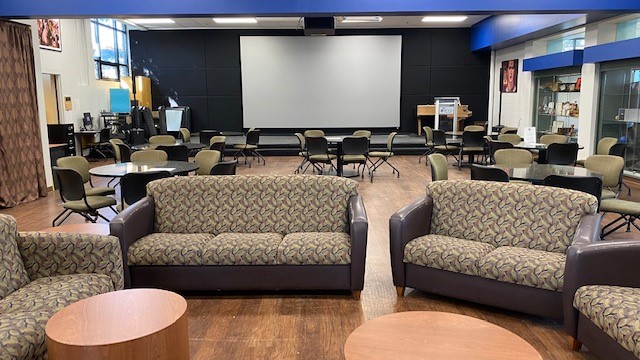 Gym/Athletic Fields
WVC offers our gym and four athletic fields to rent. For more information about gym and athletic field availability, or other athletic services, please contact the Athletic Director at 509.682.6771.
The Associated Students of Wenatchee Valley College (ASWVC) are excited to welcome you to the Jack and Edna Maguire Student Recreation Center. The Student Recreation Center (SRC) is Wenatchee Valley College's resource for students, faculty, and staff to workout and participate in recreational activities, wellness classes, intramural sports, and outdoor activities.
The SRC is located on the west side of campus, by Paul Thomas Sr. Field and Knights Field.
For additional information on this space, please visit their website at Student Rec Center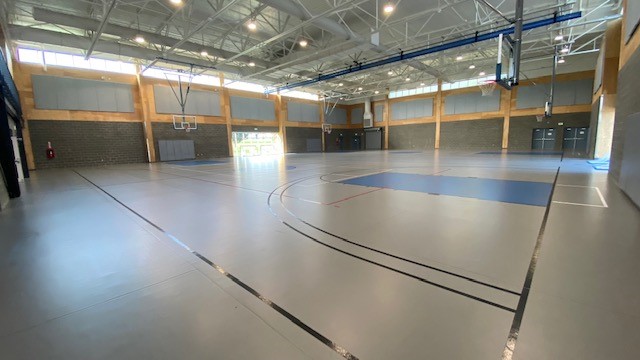 Several classroom spaces in various sizes and set-ups are available across campus for workshops, meeting spaces and special events of all kinds.
Lecture halls on campus can accommodate up to 95 guests/students and are equipped with ITV, multiple TVs, document cameras and multimedia stations.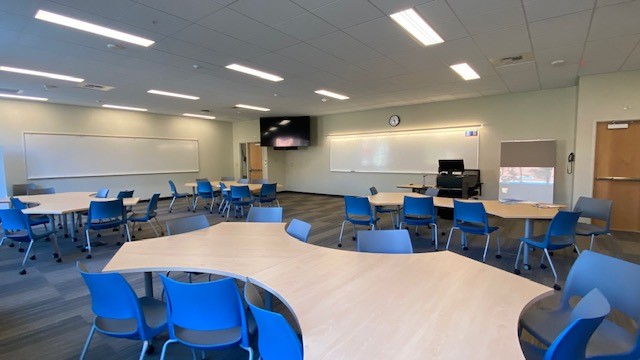 Conference space and boardrooms on campus state-of-the-art and multi-functional. The rooms range from small (about 12 guests) to large (up to 55 guests) and can accommodate conference calls, ITV, multimedia and various kinds of presentations.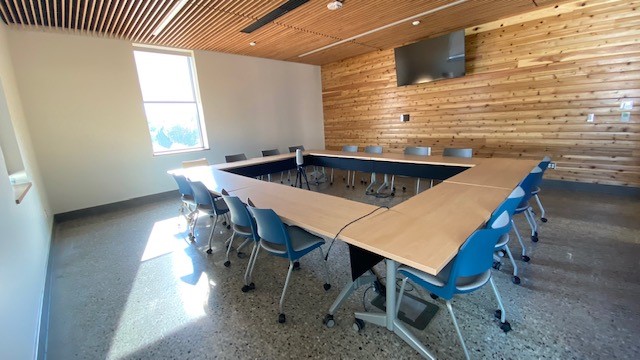 Computer labs are available to rent across campus. These labs can accommodate up to 55 guests with computers, Internet access and an instructor stations.
The manicured lawns and outdoor areas at WVC are available for a myriad of uses. Our grounds include multiple patios featuring artworks by various artists, open grassy areas, historic buildings and old growth trees, and the fountain at the center of campus.
Wi-Fi and computer login
Computer/Laptop
Zoom
On-site Tech Assistance
PA Systems
Microphones/PA system
Tables and chairs
Garbage/Recycle bins
Custodial Services
Podium/Lectern
All catering services on campus are handled via contract through the WVC Food Service provider, From Scratch, who has right of first refusal for all catering needs on campus. For more information, contact them at 509-682-6518 or wvcfoodservices@wvc.edu.